Star Wars
.
The best swords in the world
The Light Sabre was the weapon of choice of both Jedi and Sith, it is portable and easy to conceal (although I don't know if you'd want to try sneaking one through airport security).
Also, its simple design reminds me of an Apple product, and its efficiency is undeniable: If someone came running at you with a Light Sabre, you wouldn't stick around to see what they wanted!
If you're not happy to admit the mighty Light Sabre into the realm of the sword, then here are a few other swords you might want to slay your foes with: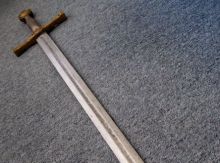 notfrancois
1. "Excalibur" (wielded by King Arthur)
2. The Hatori Hanzo sword (wielded by The Bride in
Kill Bill
)
3. "The Sword of Omens" (wileded by Lion-o from
Thundercats
).
4. William Wallace's sword in
Braveheart
5.
The "Vorpal Sword" from Lewis Caroll's
Through the Looking Glass.