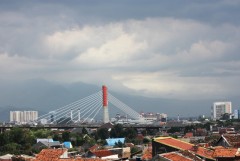 '+22' is not a country code for any country but a dialing code when you make phone calls. According to the American Computer Resources, Inc. It is the international calling code for Bandung, Indonesia. 
We're all aware of how expensive it is to call internationally. Thankfully, there are now computer programs that allow people to get connected with their loved ones free of charge or for a minimal amount only.
If you want to make affordable international calls, your best bet is to download Skype which is absolutely free. Skype has the lowest per-minute rates for calling virtually anywhere in the world, and you can use it on any computer. If your recipient has the Skype software installed on their computer and a good internet connection too, you can even talk for free via computer for as long as you wish. It's one of the best communication inventions that make keeping in touch easy and really cheap. The costs for making international calls on Skype are a fraction of what telephone companies charge for calls.
There are also many other advantages to using Skype to make calls, both local and international. Whether you are using it for business or personal reasons, you can enjoy its media functions such as video conferencing, multiple user conference calls, voice mail, screen sharing, and many others. Its chat feature also makes it easy to send short messages to other people for free. You can pay for your Skype services on a pay-as-you-go basis if you benefit from their paid services, as well as a monthly subscription. However, if you use its free services such as Skype-to-Skype calls and chat, then you don't have to pay for anything.
Skype can be used on any computer, whether desktop or Mac. It's also really easy to use, but shouldn't be seen as a replacement to your regular phone line because it requires a broadband connection. If you are experiencing an emergency and need to contact 911, it's still best to have a backup phone line. The only disadvantage to using Skype would come when your internet connection slows down.