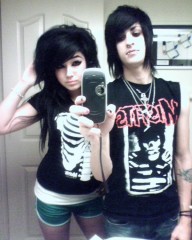 Although the subculture that is currently referred to as 'Emo' does have elements of Goth influence, the two sub-cultures are markedly different, and originated from scenes that were far-removed from each other.
Origins of Emo
The origin of the 'Emo' subculture can be traced back to the hardcore punk scene of Washington D.C.
Pioneering bands such as Rites of Spring were involved in a style of music that derived from the concept of 'hardcore' punk (which itself is a heavier, high-octane offshoot of what was originally considered 'punk').
This new style was seen as more melodic and expressive than simple hardcore, and so the terms 'emotional hardcore' or 'emo' were coined.
Origins of Goth
Gothic rock music, on the other hand, was influenced by a very different punk scene. Goth was an offshoot of the post-punk rock that emerged in 1980s Britain, and was a slower, keyboard-heavy and more melancholy affair.
The evolution of Emo
Between the mid-90s and today, Emo culture and music has undergone something of an evolution.
Musically, although Emo's sound maintained its melodic, high-tempo core, it began to draw influences from genres across the alt-music spectrum, ranging from grunge to goth.
This amalgamation of several youth sub-cultures was reflected in the fashion sense of the Emo tribe, which became the subject of disdain from 'purists' of different genres who saw Emos as 'stealing' or 'mimicking' certain aspects of various sub-cultures, without fully immersing themselves in any of them.
This was particularly true of the Gothic sub-culture, whose dress sense and sullen, morose themes appealed to the Emo genre - even though the Goth sound didn't.
Emo rose in popularity during the 2000s with bands like Jimmy Eat World (and later My Chemical Romance), and its blend of influences and increasingly pop-sounding sensibilities meant that it began to veer towards a mass-market of angst-ridden teenagers, and further away from its hardcore punk roots.
Emo fashion
Emo fashion also evolved alongside the music. Whilst the hardcore punk scene increasingly adopted skater brands, sportswear, crew cuts and a relatively basic approach to fashion, Emo developed a million miles in the other direction. Slim-fit jeans became an Emo fashion staple (with some even going so far as to wear their younger sister's jeans), and so did studded belts, Emo band t-shirts and hooded tops.
Gothic influences - such as the use of black nail-polish or heavy eye-liner - also became prevalent.
Ironically, although Emo was criticized for borrowing from other genres, it perhaps received the most criticism for its distinct hairstyles: Long, side-swept fringes for boys, and choppy, multi-layered black hair with brightly-colored highlights for girls.
Suicide teens and negative press
The general antipathy felt towards Emos by other youth sub-cultures resulted in the term being used to negatively describe and stereotype angst-ridden, emotionally unstable teens who used a musical fad as a means to vent their relatively-trivial problems. Themes like self-harm, and writing depressing poetry about the heartache felt during high-school relationships became synonymous with Emo culture and music, and were used to portray the genre in a negative, over-sensitive light.
However, the 'fad' took a much more serious turn with the emergence of several high-profile cases of teen suicide amongst people who identified with the sub-culture, and Emo was subsequently criticized by parents' groups and the media for glamorizing death and suicide.
The negative connotations associated with current Emo culture can be summed up in the lyrics of a song entitled 'Emo kid' by androgynous American singer Jeffree Star (which was rather ironic considering that Star himself rose to popularity on the back of a huge teen following on social network MySpace).