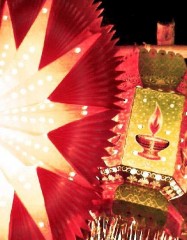 This year's festival of Diwali is upon us, and many people from across the world will be celebrating in this 'festival of light'. But just exactly why do we celebrate Diwali? Blurtit has the answers:
Diwali is celebrated mainly in India, but many other groups across the Hindu faith also celebrate. It is said that Diwali is to Hindus, what Christmas is to Christians, and it basically comes down to a celebration of the triumph over the forces of darkness by the forces of light.
During the festival, homes and houses are usually adorned with many fragrant pieces that are usually home made from Jasmine, although they can also be bought from local market traders. Get down there early though, they are most likely to be sold out by dawn.
While the story behind Deepavali and the manner of celebration varies from region to region (festive fireworks, worship, lights, sharing of sweets), the essence is the same - to rejoice in the Inner Light (Atman) or the underlying Reality of all things. A sense of sharing is wholly encouraged throughout the festival, and people celebrate with light displays comparable to those of Christmas, and by dressing in expensive clothing.
To see some of the spectacles from the festival, see National Geographic's short video below.